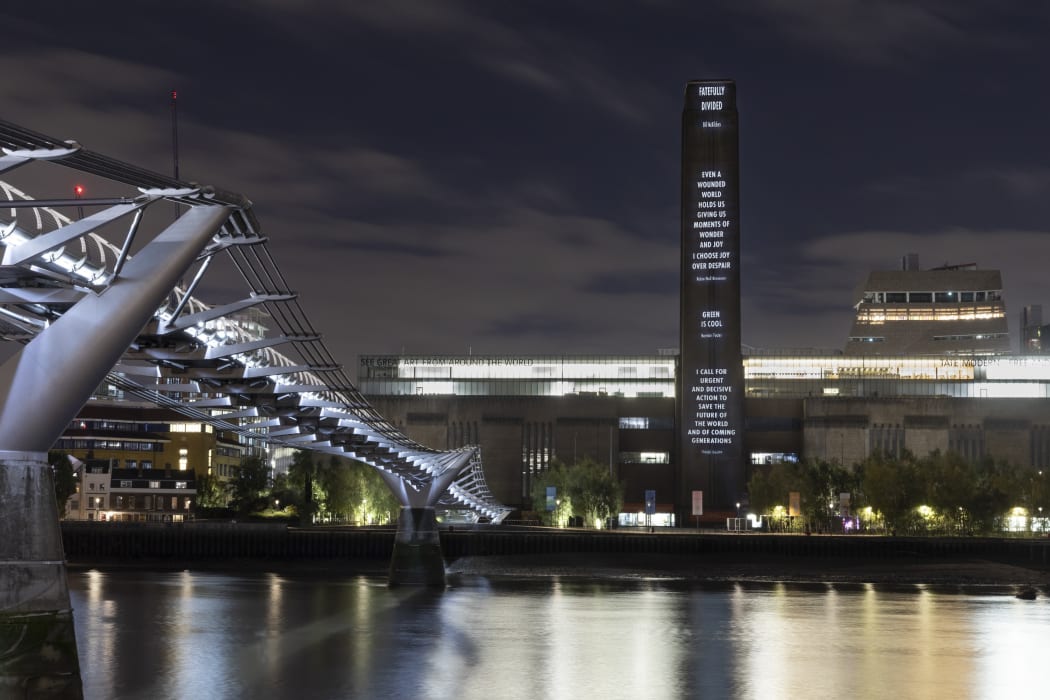 On a chilly autumnal Friday night on London's South Bank, Tate Modern's iconic chimney was illuminated with a series of moving, inspiring and unapologetically truthful testimonies from more that 40 individuals addressing the climate crisis.
Co curated by Artwise Curators and Shore Art Advisory, and in collaboration with Art For Your World, this powerful public artwork by Jenny Holzer, entitled Hurt Earth, will launch at Tate Modern this weekend before going on to light up several other UK landmarks to draw attention to the climate crisis during COP26.
The performance will be live at Tate Modern from 29th - 31st October from dusk until 22:00. Hurt Earth will then travel to Edinburgh Castle with a version of the artwork projected on the SEC Armadillo in the official Blue Zone of COP26 in Glasgow on 8th November, followed by the Met Tower in Glasgow from 9th to 11th November, succeeded by a series of pop-up locations in Edinburgh from 12th to 14th November.
Jenny Holzer is known for work that deploys text to invite public debate and highlight social and political justice. Recent projects include YOU VOTE, a series of public artworks displayed in swing states across the US to encourage voting in the 2020 presidential and congressional elections. This latest project, Hurt Earth, includes excerpts of writings, testimonies, speeches and interviews from climate leaders and activists across the globe, including Climate Vulnerable Forum, Fridays for Future, Indigenous Environmental Network, Institute for Climate and Sustainable Cities, U.S. Climate Action Network and WWF, inviting the public to reflect on the urgent need to come together in solidarity in the face of the climate crisis, when our planet is at a crucial tipping point.
'IF NOT US THEN WHO'
'IF NOT NOW THEN WHEN'
'LIKE THE OCEANS WE RISE'
HURT EARTH, 2021 Light projection
Tate Modern, London Text: Protest sign
© 2021 Jenny Holzer, ARS Video: Adam Kenrick
- Written for Art For Your World by Ruth Connolly