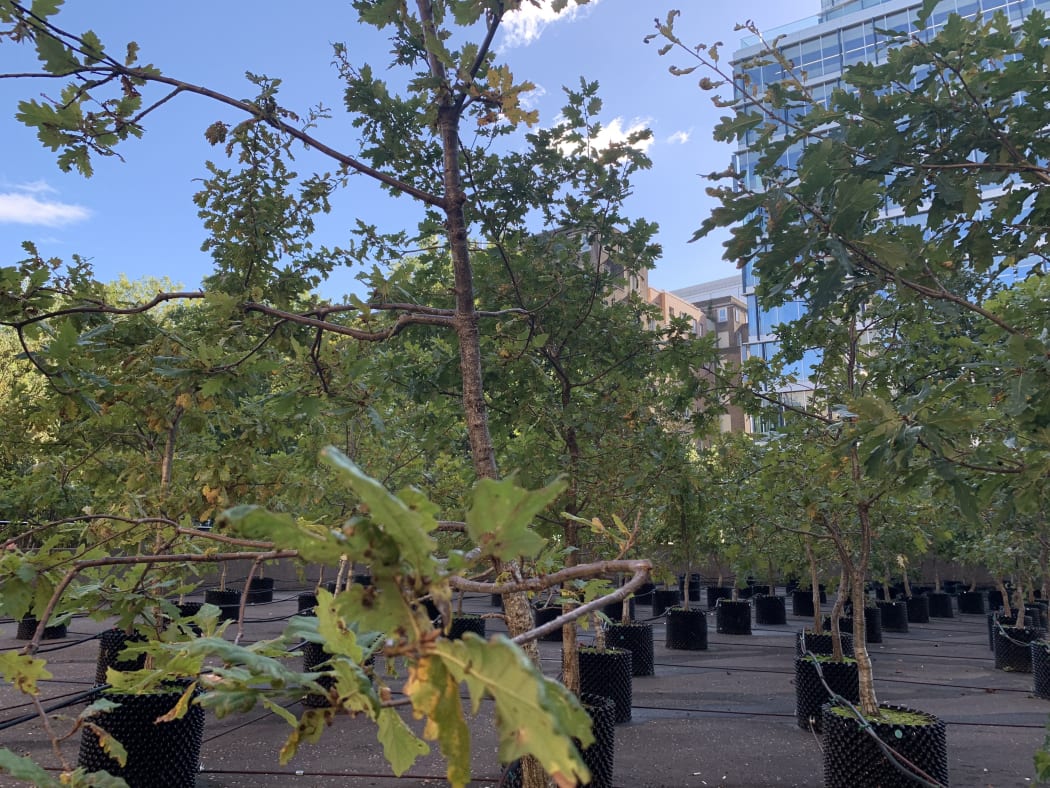 On the South Terrace of Tate Modern – scattered with people gulping in the fresh air on their lunch breaks – a gallery goer exclaims 'Wow! What's this!?'. They are pointing to the young oak trees placed in neat lines on the terrace with a network of watering and feeding pipes running between them. Whilst standing on the terrace I found myself looking at the trees as I had the artwork inside the gallery, taking in the forms, colours and textures and reflecting on the emotions and thoughts they were inspiring. The living sculpture Beuys' Acorns is an installation by artists Ackroyd and Harvey – 'a place for gathering and for rethinking our connections with nature'.
Ackroyd and Harvey took inspiration from artist and co-founder of the German Green party Joseph Beuys, who with his team planted 7,000 trees alongside 7,000 basalt rocks in Kassel, Germany from 1982-1987. 7000 Oaks a 'social sculpture' as Beuys called it, 'permanently altered the cityscape, connecting art to the emerging climate movement'. Ackroyd and Harvey collected acorns from Beuys' original oaks in 2007, one hundred of which have been placed together to form Beuys' Acorns.
The art world has the ability to play an important role in supporting the environment, sustainability and climate change. With a large global influence, people really care about art and the discourses it chooses to embody. As well as the need for more artists and creatives to work in a sustainable practice, the industry can use its audience to reach more people with the message of how serious the climate emergency is. The Oak Project believes that art 'can save us from extinction' and works with recent psychological research carried out by the University of Derby which 'demonstrates that art can play an important role in motivating people to take action to protect the environment by building a sense of connection to nature'.
This blog highlights projects and exhibitions that some of the Art For Your World's supporters have been doing to promote and support the environment. As well as Beuys' Acorn at the Tate Modern, it will look at Seawall at Hastings Contemporary, Art Partner's #CREATECOP26 and Great Oaks from little Acorns grow commissioned by The Oak Project. A separate blog will look at the exhibition Land/ Sea by Mike Perry at Oriel y Parc.
Seawall – by Andreas Angelidakis at Hastings Contemporary
Hastings Contemporary is one of the seven arts organisations involved in England's Creative Coast, an outdoor cultural experience that 'connects art with landscape and local stories with global perspectives'. It joins Cement Fields, Creative Folkestone, De La Warr Pavilion, Metal, Towner Eastbourne and Turner Contemporary. Curator Tamsin Dillon says the project is 'about engaging people in seeing something that is unexpected, that they might want to look at and find out more about'.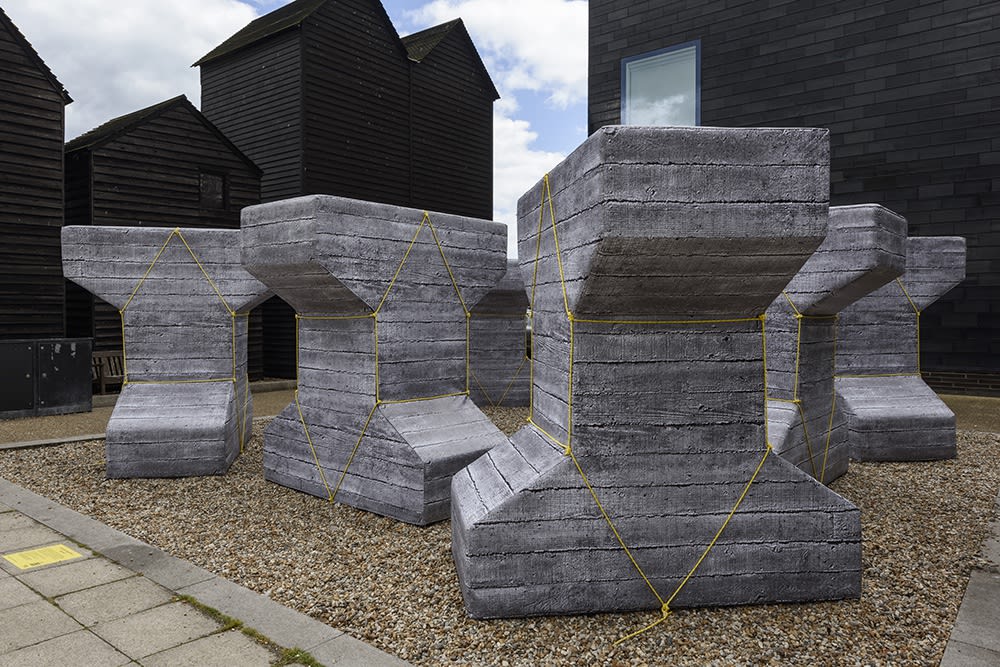 Andreas Angelidakis, Seawall. Image: Thierry Bal
In May 2021 Seawall by Andreas Angelidakis was unveiled in the courtyard space at Hastings Contemporary. Seawall's apparent giant concrete structure is reflective of sea defences that are an increasing feature of coastlines all over the world. On closer inspection the sculpture is soft and moveable, welcoming interaction with both its physical form and underlying message: climate change in the form of coastal erosion and the encroaching sea.
"We are living in a moment of unsure transitions, from what we used to know the world to be, towards an unpredictable future. This uncertainty manifests itself on many scales […] we are humans whose way of life is destroying our home, as well as the home to every other living creature. Standing on a beach, like Hastings, is the perfect spot to look out to what the future brings, to look out to the horizon." - Andreas Angelidakis
#CREATECOP26 – Art Partner
In July 2021 creative agency Art Partner put out an open call 'for art that responds to the climate emergency'. #CREATECOP26 aims to raise awareness of COP26 by asking creatives aged 14-30 to submit work that 'creates conversations around the urgent need for climate action'. Applications were open for two months and eight finalists will be awarded cash prizes of $10,000, $5000 and $2000 with an additional 20 creatives receiving honourable mentions, all will have their work exhibited at a virtual exhibition.
Art partner launched a similar competition in 2019 surrounding COP25 in Madrid. They received submissions from all over the world by creatives using a range of mediums from film and photography to dance and poetry. Designer Nicholas Bennett from Yorkshire was selected as the winner. He designed a formal suit that people could wear during flooded commutes, 'complete with waterproof brogues and waders hidden underneath suit trousers'. Speaking about his winning entry Bennett said:
'So many of us are conflicted within ourselves about the climate crisis as we try to balance our heritage and current way of living with how we will have to change in the future […] Concerned with flooding in Yorkshire over the past few years, I wanted to test the space between these old and new worlds, and to see how the suit – a garment with a strong sense of tradition and history – fares against the threat of unpredictable weather. The resulting work may be darkly humorous, but this is fast becoming reality. We have to rethink our skins'. - Nicholas Bennett
Art Partner stated that progress in tackling climate change and the commitment to net-zero carbon emissions by 2050 is slow with many not knowing about the COP conferences. These important campaigns that are not dissimilar to #ARTFORYOURWORLD, have reached millions around the world, promoting the conference and engaging many with the crucial climate change conversation.
Great Oaks from little Acorns grow – The Oak Project
The Oak Project, a national arts programme and collaboration between the University of Derby, Yorkshire Sculpture Park and The Bronze Oak Project Ltd aims to 'restore society's connection with the environment' by using art, culture and creativity. Developed in response to recent psychological research by the University of Derby which demonstrates that 'art can play an important role in motivating people to take action to protect the environment by building a sense of connection to nature', The Oak Project believes 'art can save us from extinction'.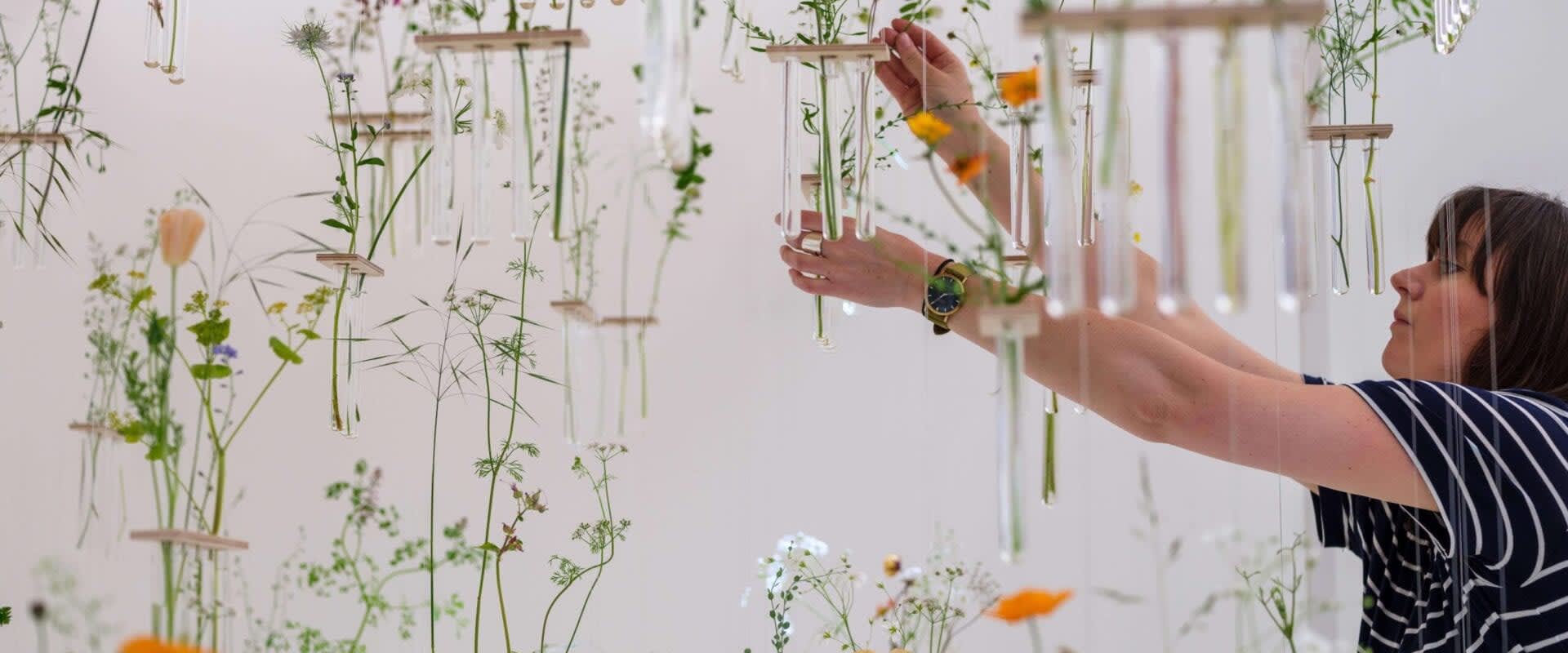 Great Oaks from Little Acorns Grow, Charlotte Smithson. Image: Tessa Bunney
Great Oaks from little Acorns grow by artist Charlotte Smithson was presented at Chelsea Flower Show in London from 21st - 26th September 2021. Smithson's installation considered 'the vital role of plants as our life support system and in return, our vital role to protect them'. The installation consisted of organically grown plants that were suspended in delicate recycled laboratory glassware. It invited the audience to take a moment to look and connect with the installation in order to notice and form a new relationship with nature – 'uniting human and nature's wellbeing'. Writing in an Instagram post Smithson said:
'The piece invites you to tune into their [plants] beauty. Look closely at their intricate roots? Aren't they clever and complex?! […] Research by Derby University shows that compassion for nature and a desire to protect it, comes about through having a personal connection to the natural world. Tuning into its beauty, noticing its ways, reflecting upon its exquisite detailing and sophistication, is one way to forge a connection'. - Charlotte Smithson 2021
The installation is accompanied by a guided meditation voiced by poet, writer and activist, Zena Edwards – a tool that allows people to connect with nature wherever they are. I did it in my kitchen this morning!
The Oak project also launched Silence – Alone in a World of Wounds by Heather Peak and Ivan Morison at Yorkshire Sculpture Park in June 2021. Their guest blog will explore this sculpture and its response to the question, 'Can art save us from extinction?'.
Written for Art For Your World by Ruth Connolly.