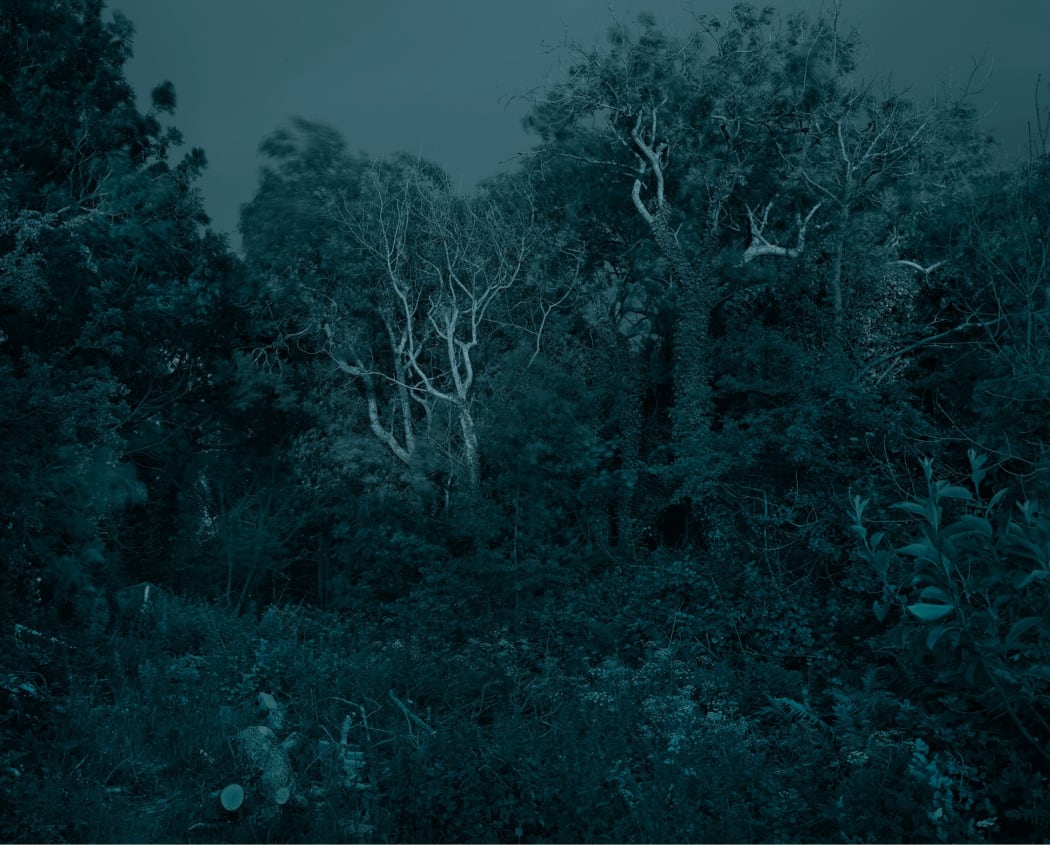 'Beautiful' was the first word that formed in my mind whilst staring at Ash Dieback, Moonlight, (2020) by Mike Perry for the first time. Deep turquoise and porcelain tones are created by the moonlight bouncing off the trees and undergrowth in the photograph, creating an eerie yet enchanting stillness. Then I looked again, examining in more detail the skeletal branches that are illuminated in the moonlight, soon realising that they are the dead branches of ash trees. Ash Dieback was taken outside Perry's studio in West Wales. It documents ash dieback or as Perry describes it the 'other pandemic' that is sweeping across the UK, acting as a reminder to us all of the environmental crisis.
'You don't have to go to the Arctic or Brazilian rainforest to see environmental collapse, it's here on our doorsteps, in our fields, hedgerows, on our beaches...and it's here in our national parks - places we normally associate with unspoilt wilderness' - Mike Perry
Ash Dieback is one of the photographs that makes up Perry's solo exhibition Land/ Sea (Tir/ Môr) that opened in July 2021 at Oriel y Parc, Pembrokeshire. The exhibition which is facilitated by National Museum Wales in Partnership with Pembrokeshire Coast National Park Authority, 'focuses on society's broken relationship with the natural world and challenges conventional ways of seeing our coastline and countryside'. One visitor powerfully described Land/ Sea as 'beautifully sad'.
By focusing his lens on local National Parks, particularly in Wales, Perry draws attention to the environmental crisis that is happening on our doorsteps rather than focusing on distant locations. Alongside Ash Dieback the exhibition includes other new works such as Hedgerow Confusion, (2020) and Flailed Hawthorn, (2020). These large-scale landscape photographs explore the threatening themes that are hidden within natures beauty and are often overlooked. Perry wants these pieces to 'suggest the narrative around COP26 should go beyond carbon reduction and embrace wider issues of biodiversity and species extinction'.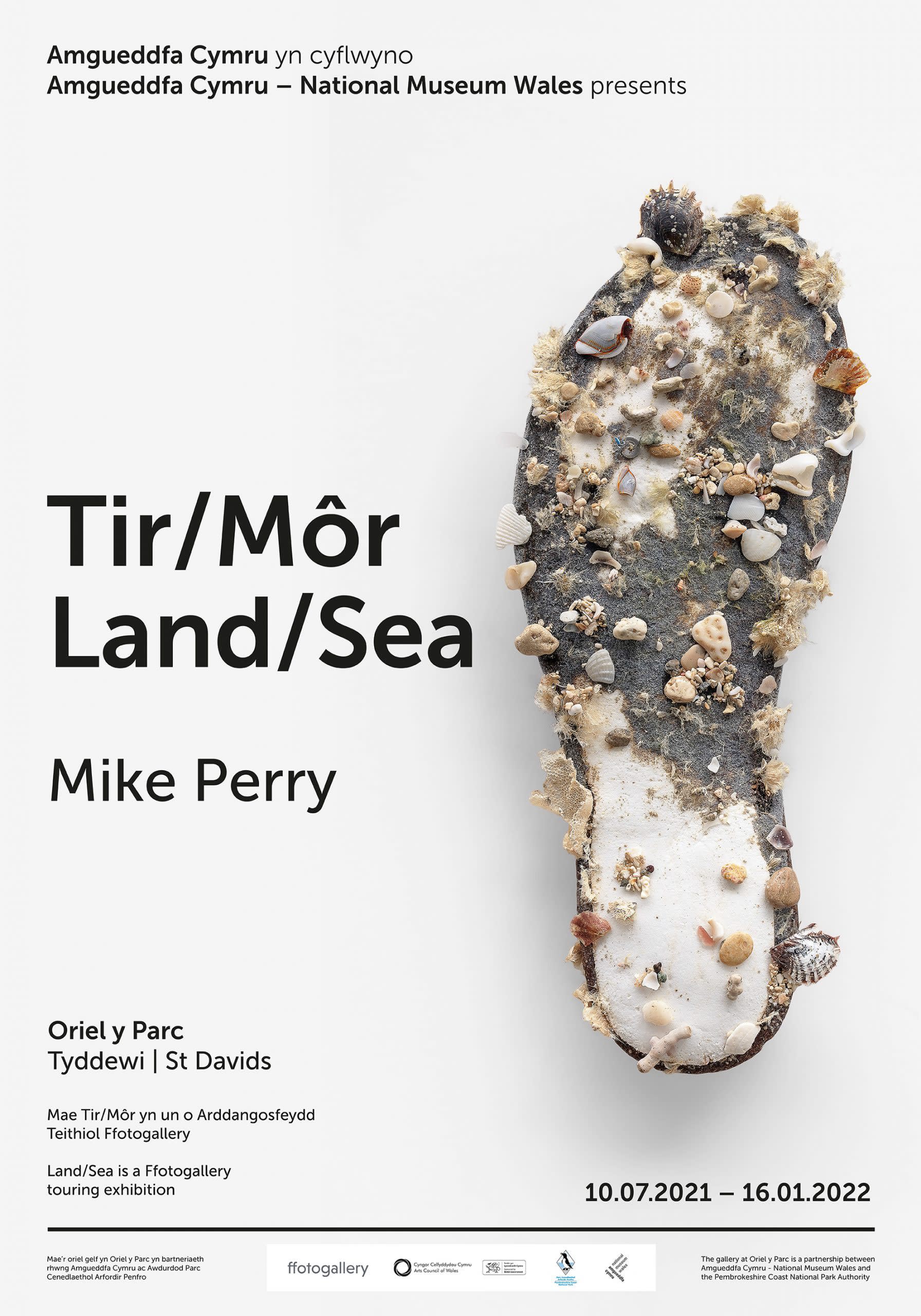 Exhibition Poster (2021) – National Museum Wales
'Are these really photographs?'

Land/ Sea visitor, 2021
Perry who grew up in the Pembrokeshire National Park says that 'the smells, the sounds are in my veins but, like most of Britain, nature here is in real trouble. There is hardly any fish left in the sea which is why the cliffs are virtually empty of sea birds. After a storm here the beach is completely covered in plastic pollution'. Perry's work challenges the way in which the coastline and countryside is often viewed, it 'opens our eyes to society's broken relationship with the natural world'. It sparks a conversation centred around how we can 'restore healthy ecosystems and bring back a wilder landscape', perhaps this is what prompted a gallery goer to ask, 'are these really photographs?' in the visitors book.
Perry has included forensic photographs of found plastic objects in the exhibition that he has picked up whilst working in the landscape and then photographed in his studio. This includes a series of photographs depicting the soles of shoes that have been taken over by nature. One shows crustaceans eating the plastic sole of a flip flop and in another the sole of a platform shoe that Perry likens to an apartment block has become a home for small animals. These 'micro landscapes' look like beautiful objects, but, as Perry explains are in fact showing how 'PCB's and toxins get into our food chains… we can't forget that this plastic is breaking down into the sea and releasing toxins into the seas ecology'. When talking about the curating process of placing these forensic studies alongside the landscape photographs Perry revealed that 'we've mixed these works together because in essence we think they are both landscapes. The more traditional representations of the land are in effect depicting mans impact on nature and then the smaller one to one objects are depicting nature's impact back on the man-made'.
When discussing Land/ Sea Bronwen Colquhoun, Head of Photography at National Museum Wales said: 'Perry's work is a micro-study of a global issue that brings into focus the impact of the ecological emergency on one's own doorstep. There is a conflict and discomfort between the beauty of the works and the terrifying reality that they represent, which is made all the more powerful by one's familiarity with the material. There is both an urgency and an agency to the exhibition that solicits attention and, hopefully, inspires action'.
'Oriel y Parc is a unique collaboration between Amgueddfa Cymru – National Museum Wales and Pembrokeshire Coast National Park Authority. Visitor services are joined by displays from the national collections and visiting artists to celebrate the landscape. It is a space that allows a wider audience to engage with the displays and artworks and their narratives.
'What a wonderful coincidence to be able to visit this exhibition - One that I had hoped to see but didn't realise it was here. A sensitive portrayal of the challenges that face us, both in Wales and beyond'. - Land/ Sea visitor, 2021
Land/ Sea is on display at Oriel y Parc, Pembrokeshire until 16th January 2022. It is an adaptation of the Welsh Arts Council/ Ffotogallery Touring Exhibition, originally curated by David Drake, Director of Ffotogallery, and Ben Borthwick. On 4thNovember 2021 Mike Perry will be part of the digital panel discussion Landscapes for the Future chaired by BBC broadcaster Jamie Owen. Get your free ticket here

Written for Art For Your World by Ruth Connolly.