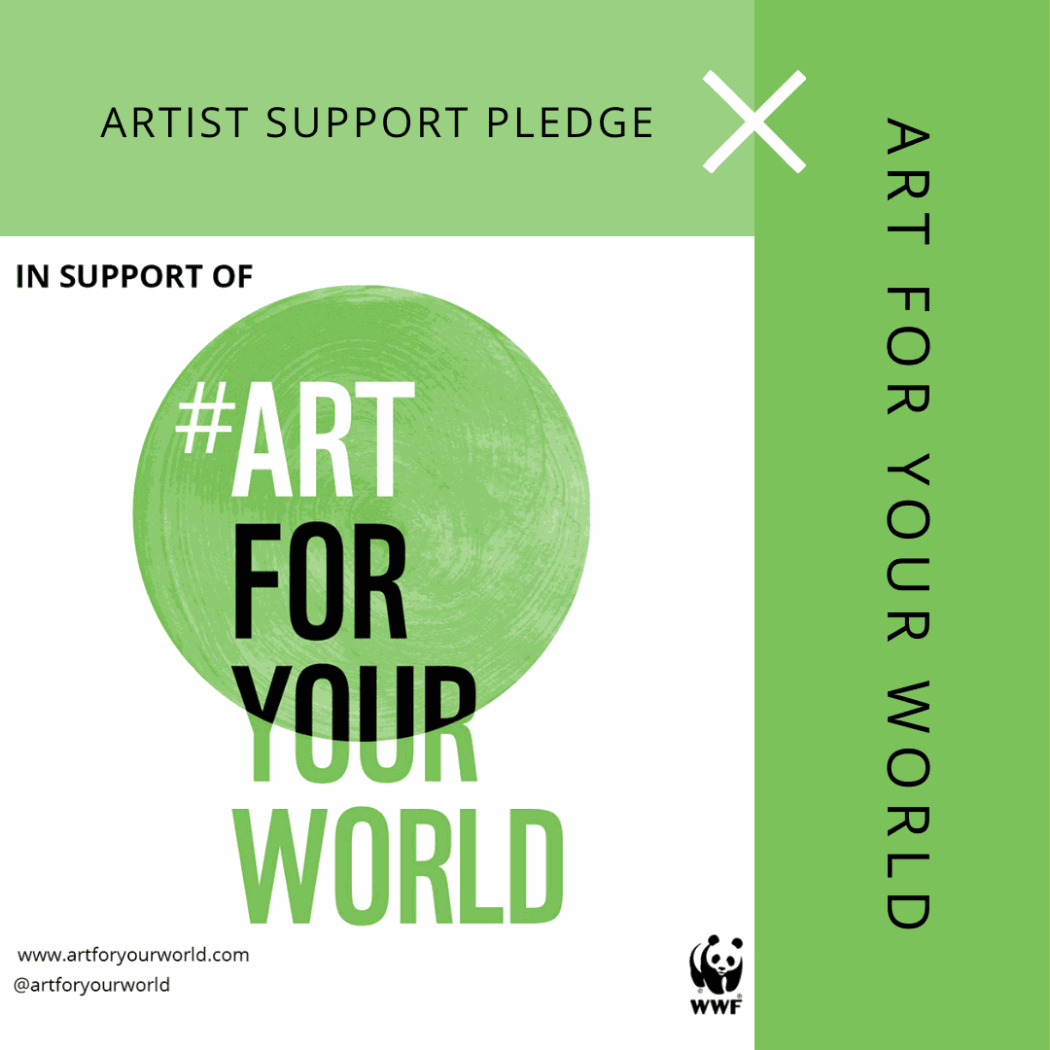 Artist Support Pledge – a space that is usually a sea of red squares started to turn green on 2nd November 2021. The reason – they are the latest organisation that is going green to show their support of Art For Your World and WWF.
Artist Support Pledge was founded in March 2020 by artist Matthew Burrows in response to the Covid-19 pandemic. 'It is now a global movement of connected communities committed to an equitable and sustainable economy for artist and makers of all countries, media and ethnicities.' Instagram is the key tool for Artist Support Pledge. Artists and makers can post images of their work and use the #artistsupportpledge alongside details of the works and prices (no more than £200 or equivalent). The buyer can then directly message the artist to complete the purchase. Every time an artist makes £1000 of sales, they pledge to buy another £200 of work from another artist.
Artist Support Pledge is an opportunity for all, that anyone can get involved with, whether they are creators or buyers. They are committed to being an accessible platform for all to participate in. By having this ethos at the centre of the organisation they allow a greater number of artists to get their art out into the world, and this is important. Why? Because Artist Support Pledge 'believes that an equitable and sustainable future economically and environmentally must begin by examining the cultural values we live by; that artists are central to this debate; and that ALL artists are important in maintaining the permaculture that is our global artistic ecosystem. If one part suffers, we all do'.
Artist Support Pledge and Art For Your World
Artist Support Pledge are asking that during November 2021 artists and makers donate a percentage of their sales to Art For Your World. They state, 'climate change matters and we must stand together and take action now to build a future with nature at its heart'. They gave the following guidelines:
1. At any time in November 2021, choose a work(s) to highlight (the number of works posted or offered is at your discretion)
2. Post your image/s on your Instagram account
3. Add the Art For Your World and ASP tile to your post. To get tiles either
a) use a repost app
b) right click one of the two images from
https://artforyourworld.wwf.org.uk/getinvolvedartists and download
to your photos - see link in highlights c) use a screen shot of the tile above
4. Sell the work through your own channels
5. Add #artforyourworld to your post and tag @artforyourworld
6. When the work has sold, please donate a portion back to the Art For Your World campaign on the website see link @artforyourworld (Please note that the donation amount is not public and at your discretion)
All the money raised will go directly to one of five key WWF projects tackling climate change head on.
Written for Art For Your World by Ruth Connolly